When an opportunity comes along that just seems too good to be true, you can't stop but look for reasons why it might be a bad idea. So when we were approached to combine forces with Webtrekk, we interviewed over 20 analysts, customers, and industry experts and every single one of them was ecstatic about this opportunity. As a result, I am finding it extremely easy to come up with a list of 10 reasons why Mapp and Webtrekk joining forces is great not only for our businesses but, more importantly, for our joint customers.
1. It's what you asked for
The numerous customer interviews and discussion pointed out the gaps and weaknesses of Mapp's analytics capabilities. One of our choices was following the same path as our competitors by creating a limited set of pre-defined dashboards supporting individual marketing use cases.
Instead, we will now be able to offer enterprise-grade analytics against all of the data our customers choose to upload into Mapp Cloud. This will not only support campaign analytics use cases but also customer intelligence, attribution modeling, cross-channel customer journey visualization and much more.
2. Joint customers
Webtrekk and Mapp share a very similar customer profile and solve the same type of challenges faced by marketing stakeholders. Both companies work with brands and agencies that don't buy into marketing clouds that overpromise, overcharge and underdeliver.
3. The value we place on first-party data and its security
As the Economist puts it, "The world's most valuable resource is no longer oil, but data."
And they are not even exaggerating: five out of six of the most valuable companies in the world are technology companies, with only one out of six being in the oil industry. This compared to just one technology company 12 years ago. In other words, data is the oil of the digital era.
It's one of the main reasons why some of the largest brick-and-mortar retailers are defining their strategies by being data-driven companies, rather than being the most price-conscious or convenient retailers.
First-party data provides brands the biggest competitive advantage:
It provides the most accurate picture of what the customer is going to do next
It is not available to your competitors
You already own it and therefore it's free
Mapp's focus has always been on unlocking the goldmine that is your first-party data and we look up to Webtrekk's ideas and vision on the subject. We have been using their content to train our internal teams and partners on the value of first-party data and the risks of data leakage way before we knew there was an opportunity to merge with them.
Both businesses serve a large set of financial services customers and operate across secure data centers in Germany, ensuring that the data is not only physically secure, but operationally as well.
4. Joint strategy 1+1=3
What every marketer dreams of is their ability to turn insights (the "Aha!" moments) into engagements (Clicks!). Marketers want to take behavioral data from any source, configure messages, and set the campaign live across all channels in order to drive the engagements leading to conversions. It's a very simple concept.
The reality for most marketers, however, is significantly different. In most cases, brands start with data and then they have to configure campaigns within each channel individually. One way or another, this leads to an increase in conversions, but in most cases reports are based on last click attribution. The process works, but is notoriously hard to optimize when engagements are not coordinated.
The acquisition of Webtrekk supports Mapp's vision of combined engagement and analytics to create a platform that helps marketers select the best channel mix and, ultimately, offer a better ROI than enterprise marketing clouds.
Why should brands consider Mapp? Because a single, real-time, and complete view of the customer fueling both marketing analytics and cross-channel engagement is the only way to create a sustainable competitive advantage and long-term loyal customer base. It's not something that standalone CDPs or point solutions can offer.
In other words, Mapp Cloud can now provide…
5. Unprecedented access to data and mitigation of ITP 2.1. challenges
Have you ever wondered what data you actually need to extract the most valuable insight? Lucky for you and me, analytics researchers and professors at Virginia University have already figured it out. When it comes to predicting Customer LTV; Likelihood to Churn; or Likelihood to Convert, "customer demographics and transaction data are baseline for any prediction. It can take up to a year to deliver 54% accuracy."
Differently said, if I sell you a £1 coin for £2, you are going to get a better ROI than if you would buy any AI platform that uses demographic and transaction data alone. You might as well be flipping a coin to decide what to do next in your marketing.
Mapp can already ingest a wide variety of data from various sources: eCommerce, web behavior, paid media impressions, etc. Webtrekk will significantly enhance Mapp's connectivity through Mobile App behavior, IoT, Cross-device, and Addressable TV.
In addition, it will help our customers mitigate ITP 2.1. restrictions on the 7-day cookie expiry window through custom domain tracking. This ensures that we are capturing the most accurate and complete customer data. More on this here.
6. Enhanced channel offering
Mapp Cloud already integrates natively into email, SMS, Mobile Push, In-App and Paid media.  Webtrekk will further enhance the native channel execution to owned web through personalized banners and pop-overs.
Mobile capabilities play a large role in Mapp Cloud. We recently launched enhanced in-app and rich-push capabilities. We were the first vendor to offer rich-push videos on Android. Webtrekk will help us further solidify our mobile offering through Mobile Analytics SDK to allow our clients to track cross-channel customer journeys.
7. Access Analytics expertise on tap
The 2018 CMO Survey found that only 1.9% of marketing leaders report that their companies have the right talent to leverage marketing analytics. "Good data analysts, like good data, are hard to find."
This not only applies to brands but also to technology vendors. Marketing analytics and intelligence played a huge part in our roadmap, but it would have been extremely hard for us to hire analytics specialists of the quality and at the scale that Webtrekk has to offer.
The insights the Webtrekk team has been able to show us after a week of analyzing Mapp Cloud data has blown us away and we can't wait to see what else they can do.
Existing Mapp customers already know us for our ability to work as extensions of their teams when it comes to campaign execution. Now we will also be able to help extract valuable insights, spot opportunities, and work as an extension of their Analytics team.
8. Marketers are doubling down on analytics and so are we
The investment in analytics is expected to grow over 200% in the next 3 years and we assume it to be driven largely by the growing interest in Artificial Intelligence. CMOs are realizing that they will never be able to capitalize on the full benefits that AI has to offer until businesses fully adopt and operationalize marketing analytics. Analytics skills around data cleansing, preparation, crunching insights, and operationalizing them are the basic requirements to apply AI as a strategy rather than a tactical deployment. There is only so much a business can be done with tactical black box AI solutions.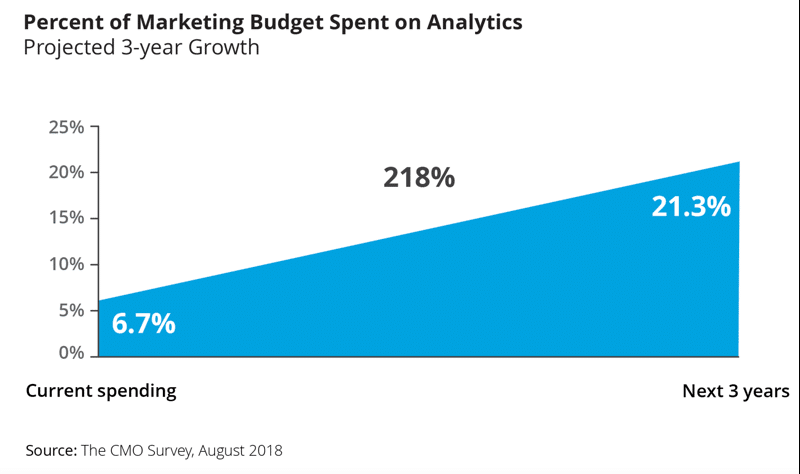 9. Expansion into artificial intelligence
We are entering the 4thIndustrial Revolution where our (human) strengths can be enhanced with more powerful processing capacity. This is also an extremely exciting time for us (marketers) as we have to ask ourselves:
Would I rather spend my days configuring rules and events that should trigger customer communications? Or would I rather focus on intricacies of customer behavior so I can train my AI colleague on the best way to orchestrate customer interactions?
I know which one I would pick.
For the better part of the last six months, we have been exploring all of AI's possibilities on the existing Mapp Cloud data layer. We had some successes and some hiccups, but most importantly, our customers can already benefit from the ability to send messages at the most appropriate time for each individual customer.
Webtrekk not only enhances Mapp Cloud's AI capabilities, but they shoot us ahead of the competition with over 200 clients already using their customer intelligence AI capabilities to predict customer behavior such as "next best offer", "likelihood to churn", "likelihood to convert", and "next order value." Beyond are some of the bespoke models they have built for some customers using their in-house data science and AI team.
The ability to trigger a re-engagement flow based on customer behavior online is baseline for any marketing automation vendor. The ability to predict a customer's likelihood to convert throughout the session in real-time and then deciding on the best action is where we are heading. We could not be prouder of the Webtrekk team as they are receiving a Gold Stevie award in Real-time Predictions for websites in the "Best New Product or Service" category.
10. Converging roadmaps
Both Mapp and Webtrekk offer functionality that is core to any marketing organization, and both are known for offering great service and even better value for money.
While both platforms have evolved with various marketing challenges in mind, the strategy and the scope of their future roadmaps have started to converge. Mapp and Webtrekk are continuing to extend their Customer Data Platform and doubling down on customer intelligence and AI.
It's truly exciting news to Mapp and Webtrekk customers and we can't wait to share more updates in the coming weeks! Register for our upcoming webinar to stay up to date: