Drum roll, please… Mapp's Fall Update is here! We have officially launched 18 new features that will help you tackle daily marketing challenges. Are you ready for smarter, faster, and better-connected features?
Here's a roundup of our new Fall features:
1. Say hi to AMP
Welcome to the new era of email! Engage your customers with interactive emails and boost your conversion rates with a dynamic experience. Powered by AMP (Accelerated Mobile Pages), you can integrate surveys, forms, and carousels to allow customers to interact directly within the email – instead of sending them to an external landing page or website.
AMP is now available as a preview in Mapp Engage. This feature allows marketers to compose, preview, and send AMP HTML emails within/from the Mapp Engage user interface.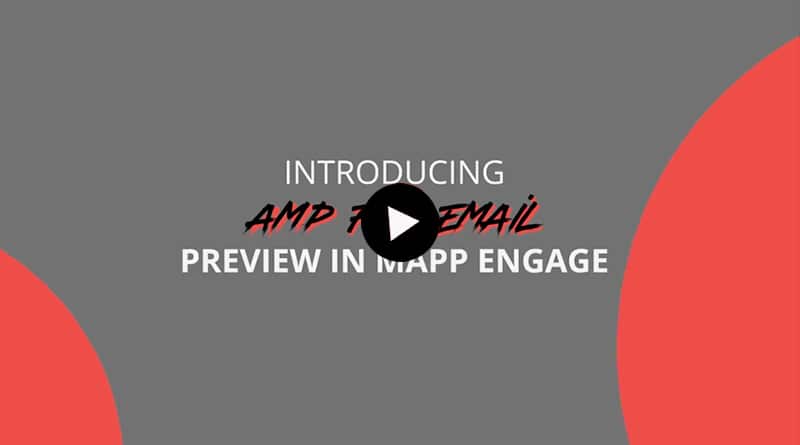 2. Your smart friend
Following last quarter's release of Smart Alerts, we have now also launched Smart Notifications. Smart Notifications provide AI-based insights that allow you to take a closer look at the performance of your marketing campaigns.
Marketers get notified automatically about important performance KPIs, including bounce rate, conversion rate, and conversion per visit. These concrete insights and actionable recommendations are aimed at identifying optimizations and planning future improvements.
3. What a beautiful view
See your customers like never before with our enriched Unified Customer Profile in Mapp Engage. Get a comprehensive overview of each individual customer by visualizing their attributes, transactions, and engagements in one single place.
Marketers are empowered to make informed decisions based on all the relevant data from the customer's journey with their brand, including purchase history, purchase frequency, loyalty status, and brand affiliation. With real-time customer insights and smart segments, you can build highly personalized campaigns to engage the right audience through the right channel.
4. Who ate the cookies?
With increasing privacy regulations for tracking services, there's demand for a solution that is not dependent on user-identifiable information. Enter anonymous tracking. It's now possible to track website visitors without using any user-identifiable cookies.
Marketers will still be able to analyze website and campaign performance, but without sacrificing the anonymity of their customers. So, you can keep tracking the important data, while still aligning with GDPR regulations.
5. It's their lucky day
Your product catalog can now be connected with Mapp Engage, which means that emails campaigns can be executed based on all available product attributes. As a result, eCommerce marketers will be able to run personalized campaigns that automatically notify consumers when products are back in stock, when there's low stock, or when they are available at a lower price.
6. Data collection made visual
You can now select and visualize the elements you want to track on your website – and it's super simple! With the help of a Visual Tagger, powered by the Google Chrome plugin, content and other elements on websites can now be tracked without any programming expertise. As a result, marketers will be less dependent on IT resources to set up or extend website tracking.
Other updates and improvement made in the Fall Update 2020:
Mapp Engage:
New segmentation available for mobile push events
New category filter for messages
Archive available for mobile push, in-app & AMP email
New send out conditions
Raw data export now contains mobile push related events
Inbound SMS in Response Queue
Automatic group cleaning & archiving
Mapp Intelligence:
Plugin for Shopware
Java library available for server-side tracking
Data stream integration guides
Alternative data stream format
Mapp Acquire:
Tracking data with a custom domain
Want more information on all 18 new features?
Check out our full Fall Update.