Remember the first time you saw your name in an email subject line? Or when you got that "back-in-stock" push notification? Times that by 100 marketing messages daily, these become common enough for customers to feel numb to standardized personalization practices. The biggest challenge for marketers right now: personalizing more than the basics to create bespoke experiences that remember.
36% of brands struggle with personalization. But how do you personalize bespoke experiences that best meet your customer needs, at scale?
Every customer is unique. The problem often stems from the source: a lack of unified customer data leading to a lack of customer understanding. Without this, your CX only meets the standard expectations, rather than creating memorable experiences through a bespoke approach. The content, how you interact, and knowing what works per customer all are fundamental pieces to the personalization puzzle.
To orchestrate an integrated customer-centric experience seamlessly, the way you store, structure, activate, and use your data within your company can make or break your strategy. In fact, McKinsey found that companies that get personalization right can potentially generate 40% more revenue. And surprisingly many businesses still can't get it right. It's why we commissioned a study to get a better overview of the impact of Mapp Cloud.
TABLE OF CONTENTS
What Forrester discovered about Mapp
What marketers are actually doing with their customer data
How to look at customer data the right way
The personalization puzzle
5 things marketers miss in their personalization
Prenatal Case Study: How they hit the mark

HERE'S WHAT FORRESTER DISCOVERED
After commissioning Forrester Consulting in 2022 to conduct a Total Economic Impact™ (TEI) study on Mapp Cloud, it highlighted common challenges our customers struggled with before using our solution: missing a foundation for understanding customers and limited capabilities to reach and engage customers. 
"Missing key insights means missing the mark with your customers. From interviewing our customers, Forrester found this gap resulted in overlapping and irrelevant messages being sent to customers, generating low engagement. These elements are just some of the types of essential CX personalization that can make every bit of difference to what you're creating, how you're interacting, and knowing what works per customer, at scale," explains Ricardas Montvila, VP of Global Strategy at Mapp.
By using Mapp Cloud to unify, analyze and act on their data, the composite organization would achieve greater value from increased engagement and more personalized messaging.
This bears an important question …

WHAT EXACTLY ARE MARKETERS DOING WITH THEIR CUSTOMER DATA?
Companies that use advanced personalization have seen a $20 return for every $1 spent. Having hailed data as king, businesses are adopting data-driven strategies to streamline their marketing accordingly. Yet, these same businesses have more data than they know exists, stored in separate systems and sources.
CRM, transactional, behavioral, and even offsite data are all pieces of your customers' profile and their journey with your brand. For instance, do they keep going back to a product but never seem to add to the basket? Do they interact with one channel more than another? Has their AOV stayed flat overtime?
Data silos limit you to a fragmented view. With different stakeholders and teams unaligned and misinformed because of no single source of truth, this in turn creates fragmented marketing.
Despite access to a data goldmine, siloed data mean internal teams are unaligned. This can come through externally in your marketing communications. Fragmented marketing creates inaccuracies, gaps, frictions, and information overload, making it difficult for your team to make your marketing work together for revenue-driving customer experiences.

HOW TO LOOK AT YOUR DATA THE RIGHT WAY
There's no one-size-fits-all approach. It all depends on your KPIs, metrics, and goals. Every business needs a customized infrastructure of how data needs to be structured and visualized. To build this, it's crucial to align with various stakeholders (data teams, senior leadership, and even agencies if outsourcing) about how data is used between your teams.
The better a company's ability to use data to increase customer knowledge, the higher the returns.
ENTER CUSTOMER DATA PLATFORMS (CDP)
Customer Data Platforms unify, centralize, structure, and store data from your data sources for better digestion and flexibility. It builds on top of this by collecting zero-party and first-party customer data from your multiple touchpoints to help you segment your data to create and enrich customer profiles, giving you real-time insight on their behaviors.
TIP: For businesses with an offline presence, CDPs help bridge the online and offline data gap to offer a full omnichannel customer view. By collecting customer data at the POS, you can log what they're purchasing or enquiring about in store, to trigger messages based on in-store behavior.
FIRST-PARTY DATA AND ZERO-PARTY DATA
The death of third-party cookies has marketers readapting the way they understand their customers. Utilizing these two types of data is now seen as the way forward for marketers, to deliver more tailored messaging in an accurate and compliant way.
First-party data: collected and owned by you as a company. It's often through behavioral data, social data, purchase data, cross-channel data, and more. The most significant advantage – data is collected by your brand.
Zero party data: customer intentionally hands data directly to you, which may highlight their preferences, email address, country, language preferences, and name. Gamification, quizzes, and surveys are often used here.
Using both in your strategy makes your data reliable, more qualitative, cost-effective, and GDPR compliant. Using this effectively with a CDP that structures and visualizes this effectively, helps to shape the customer journey across your multiple channels in real-time. This includes all data and events relating to customers' browsing behavior, in-store behavior, and preferences.

THE PERSONALIZATION PUZZLE
Before you start digging through your data, we've broken down the personalization puzzle blueprint below.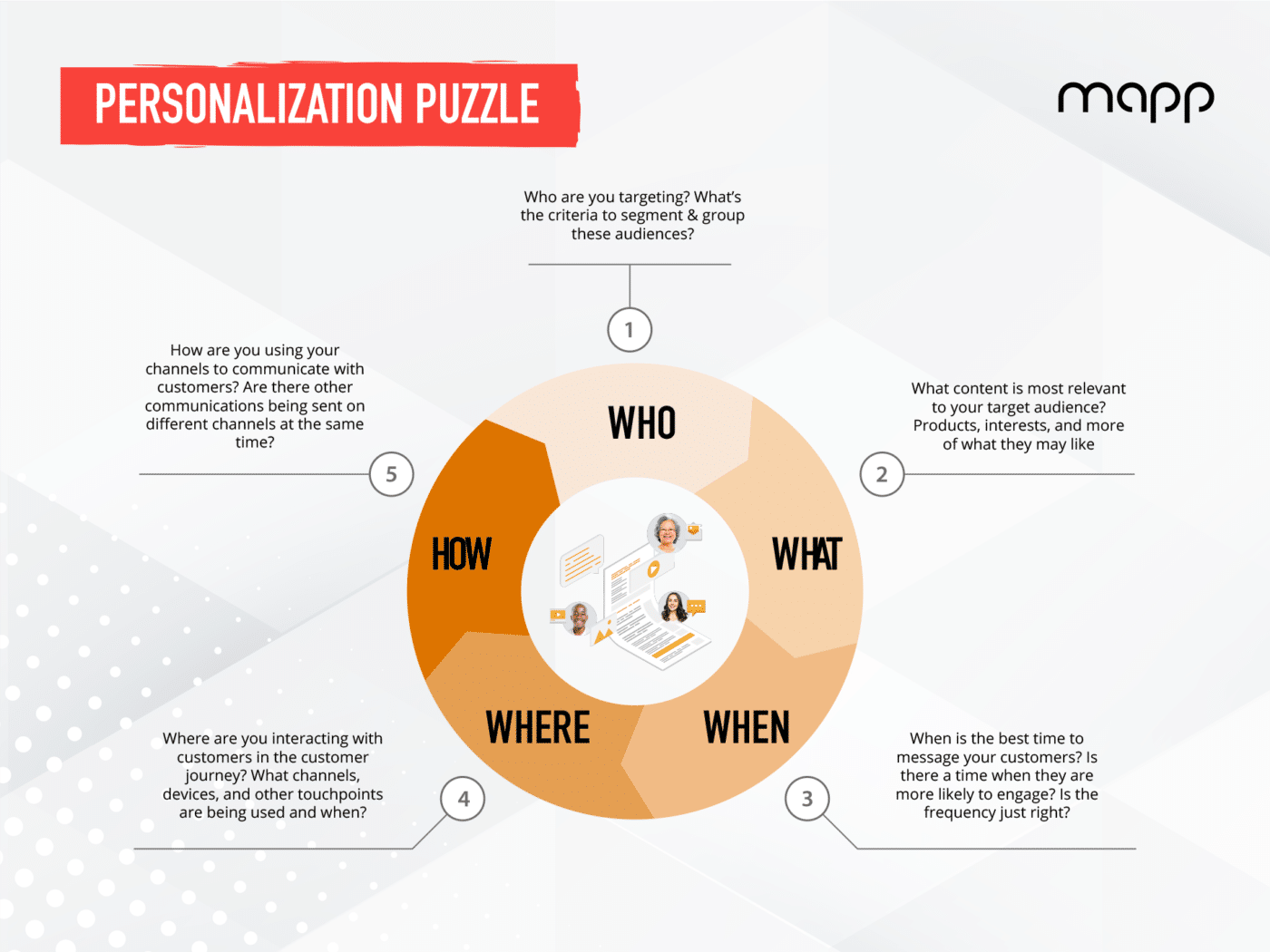 When we talk about bespoke personalization, we mean tailoring the overall customer experience: what's in your message and how you engage your customers. The content in the message itself is accompanied by how, where and when they receive the message.
Your customer data tells unique stories. To answer even the most diverse questions at scale, customer insight platforms (such as CDPs) should offer decision-makers the opportunity to visualize key figures in various ways to help guide their personalization strategy. Intuitive dashboards that cover all areas of data can enable all relevant stakeholders to use and act on the same data sources. This allows companies to align in better understanding their customers, to aid personalization, keep track of KPIs and never lose sight of the common goal: driving revenue.

FIVE AREAS MARKETERS OVERLOOK IN THEIR PERSONALIZED COMMUNICATIONS
1. Identify times and channels:
Customers open emails at all sorts of times. Whether you're a parent checking your emails before school runs at 6AM or at 5 PM on the commute home, it happens in all sorts of places and times.
You can follow market trends such as sending emails at peak times or certain days. Or you can use your customer data to place yourself on top of your customer's inbox at the right time. By using solutions with features like the 'Best Send out Time' in Mapp Cloud, it collects all the campaign feedback data from your users, including when they had opened or clicked on the email. The message is then pushed at the most optimal time, within a suitable time window to avoid unsociable hours and increase engagement. This enables you to stay relevant and generate greater customer loyalty.
2. Avoid overlapping, irrelevant messages:
A significant pain point for businesses and marketers. Your goal may be to stay in your customers' minds – but the more you communicate, the greater the risk of overlapping messages between different campaigns. If you're working with different platforms, it also becomes even harder when using trigger-based communications.
To achieve optimal customer reach, ensure that all your customer data is unified with a CDP. All event-based or scheduled communications can be all coordinated to help you contact customers at the right time. By bringing in all your real-time data, you'll reduce the risk of overlapping and tailoring certain campaigns based on all available data and improve your customer reach & engagement.
3. Segment your audiences:
Deliver a message that isn't for the masses, but for your customers. While trying to break down your customers into different audience segments, it's crucial to be detailed and/or specific to better target customers on their interests, behavior, history, and more. Instead of creating broad, large segments, get more accurate using a range of metrics and insights.
For instance, Riverford used Mapp Cloud to run a targeted trigger campaign. On the day of delivery to all customers who had a set vegetable box delivered Riverford used their customers' order data (related-data tables) to both target the audience and show recipes/veg guides specifically related to the veg products customers had received in their box that day. By inspiring customers in the kitchen, it aided customer retention. Having sent this campaign to approximately 42k customers a week, they received on average 6.3k total clicks to the website, from 4.4k unique clickers each week – with a click rate of 10.4%.
4. RFM Modelling
RFM modeling is one metric that can be used for advanced segmentation in an automatic way. You can identify a loyal customer who will appreciate a more tailored content, while a customer at risk, or a valuable churning one, might need an extra incentive to (re)engage with your brand. From there, you'll be able to offer discounts, cross-sell and upsell initiatives to lead them to conversion.
This prevents accidentally making customers feel misunderstood or frustrated when they receive an irrelevant message. It helps deliver an engaging customer experience and a tailored journey, to generate a higher revenue and KPI percentage.
5. A/B testing and performance:
59% of organizations are already implementing A/B testing. However, many businesses don't look beyond the basic elements you can experiment with when performing A/B testing.
Avoid looking at only changing elements of your communications such as the subject line or copy. For example, changing the Sender ID or Name of your email communications where modern clients such as Gmail, or Push Notifications, has the sender ID as the first thing people see alongside the subject line. Changing your brand name to 'Jane at ACME' for example, can increase the likelihood of your email being opened. This can make your emails feel more personalized rather than standard marketing communication.
Personalization in emails helps to give you better visibility. Changing small but powerful aspects of your emails, such as the content that's based on gathered first-party data and preferences of your customer that can help improve conversions. But it's crucial to focus on your "active users", as sending to inactive users who may have no interest in your brand may cause them to send your emails to the spam folder.

HERE'S HOW PRENATAL'S PERSONALIZATION HIT THE MARK
Prenatal is one of Europe's largest childcare and toy brands specializing in products for new mothers, babies, and children.
Prénatal's Customer Success story with Mapp – YouTube
After unifying their data, the brand decided to take its digital communications to the next level with Mapp Cloud through the 'Mamma/Mother' program. This campaign was an automated workflow that used customer data to target customers based on their due date and provide monthly content, relevant products, advice, and more. This created a personal relationship with customers, as they helped to become a part of the customer's pregnancy lifecycle.
The results:
The average receipt of users who purchased within 7 days of receiving the Mom Program doubled
Email marketing KPIs increased significantly: Open Rate x2.1 | Click-through Rate x6.4 | Click to Open Rate x6.9 compared to the average KPI of promotional communications
Analyzing online purchases made within 7 days of sending the email, was a x2.1 increase in eCommerce sales
In the 7 days following the opening of the program email, there was a 16.7% growth of in-store purchases
Read the full case study here.
CREATE BESPOKE EXPERIENCES WITH INSIGHT-LED MARKETING
Personalizing your marketing in a bespoke way for individual customers can seem impossible without the right tools and setup. In some businesses, there may be a lack of bandwidth to scale marketing efforts in their team. This makes it harder to action new targeted campaigns and personalize communications at scale.
To improve your customer reach and engagement, it's essential to put customer data at the core of your marketing orchestration. Knowing who your customers are and how they engage with your brand will help you create even more personalized communications. By making sure that every touchpoint brings them one step closer to action, Mapp Cloud makes your marketing reach more customer centric.
By using Mapp Cloud, brands can combine real-time customer insights, cross-channel marketing automation, and marketing analytics to create insight-led customer experiences that customers love! Our marketer-friendly platform removes siloes and makes your data actionable to help grow customer relationships and drive engagement across the customer journey, to help you drive sales, revenue, and profit.
Discover how our platform can help your marketing in Forrester's Total Economic Impact (TEI) study on Mapp Cloud.