Last year was a busy one for Mapp, so we rounded up Mapp Cloud's top 10 product developments of 2018. Market smarter in 2019 with these new features:
1. Our native customer data platform (CDP) underlying Mapp Cloud
Behind the scenes this past year Mapp has been changing the data infrastructure to allow customers to unify disparate data and dramatically improve marketing execution. Here are a few exciting performance improvements that came as a result:
Email send out is 22x faster
Email storage capacity is 20x larger
Personalization is 2x faster
Raw data exports are 30x faster
Triggered event-based messages send 4x faster
Segment calculations are instant
Marketers, we get your need for speed!
2. The Subject Line Optimizer
A game-changer in email marketing: Mapp can now score subject lines against email distribution lists before send out with the help of machine learning. You are now able to craft subject lines that will statistically drive higher open rates.
3. Blazing fast segmentation
Mapp's new Segmentation Builder fetches, calculates, and processes your target audience in the blink of an eye. The simple-to-use, drag-and-drop interface gives real-time counts for even the most complex cross-table criteria.
4. Automated customer journey campaigns
Mapp's new Whiteboard allows you to design, schedule, and automate cross-channel campaigns with unlimited journey paths. Trigger personalized messages in response to real-time engagement, even based on activity in your mobile app. Whiteboard's easy-to-use interface provides campaign visuals and performance statistics, such as the number of customers that followed each path or fulfilled a specific goal. Watch this short webinar to learn more.
5. More SMS capabilities
Did you know that 50% of consumers make direct purchases after receiving an SMS, QR code, or discount coupon? Mapp continues to add more SMS providers around the world to offer the best connectivity and most exciting mobile engagements at the lowest cost possible. Expand your reach to customers on the go!
6. In-app marketing included in Mapp's whiteboard
Display in-app messages while customers are using your app. You can also draw them back into the app with meaningful push notifications. Integration with Mapp's Whiteboard allows marketers to automate cross-channel messages based on app behavior. Pretty cool! Learn more about mobile marketing with Mapp here.
7. Sophisticated lookalike audience builder
Creating retargeting campaigns using Mapp's data management platform (DMP) has never been easier. Enhancements to Audience Builder allow you to add or remove contacts based on sophisticated behavioral logic, at the moment of purchase, or after specific event triggers – saving you from wasted ad spend.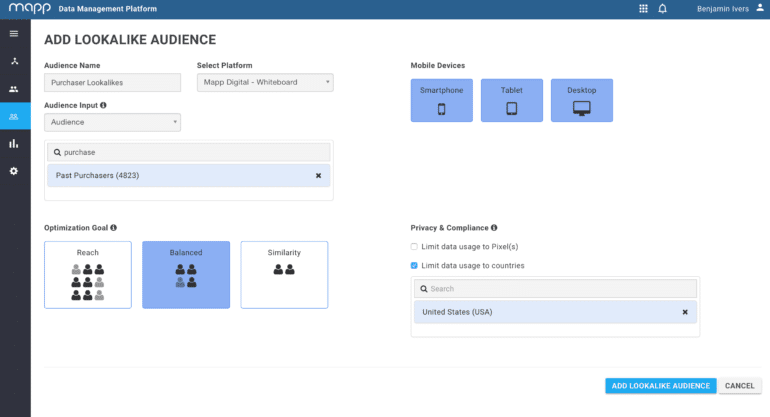 8. Cross-channel reporting
Mapp's Campaign Reporting delivers a unified, near-real-time view of cross-channel campaign performance, which helps to drive faster and more informed decision-making. No more excuses – how many cross-channel campaigns are you running next year?
9. Content Management 2.0
Mapp gives users full control over the creation and customization of emails, subscribe & unsubscribe forms, and microsites with the WYSIWYG editor and drag-and-drop functionality. Current customers are reporting they only need half the time to create email campaigns now.
10. New data security certifications – you can trust Mapp Cloud with yours!
We are proud to announce that Mapp is ISO 27001 and 27018 certified, which means that we meet the high standard of protecting personal data in the cloud. Learn more in our recent blog post.
Don't be shy if you want to see the features in action – just fill out a demo request here!