What if you could put your logo on every email so users could see it before opening the message? BIMI, aka "Brand Indicators for Message Identification", makes this happen! 
Email is not a safe medium – marketers know that, and consumers know that. What if you could put your brand on every email, and users could trust it's you? An initiative called BIMI, or "Brand Indicators for Message Identification", tries to fill this need. According to Brand Indicators, "BIMI is an industry-wide standards effort that will use brand logos as indicators to help people avoid fraudulent email while giving marketers a huge new opportunity to put their brands in front of consumers for free."
First of all, what is BIMI?
BIMI (Brand Indicators for Message Identification) brings customer logos for authenticated brands to consumers' inboxes, showcasing the logos next to the email subject line. Other platforms, such as Twitter or Instagram, have long used this type of verification as a trust seal. Now BIMI is applying this to email!
BIMI not only helps to establish trust but also increases brand visibility. While Yahoo already introduced BIMI logos more than a year ago, Gmail only caught up recently.
As opposed to Yahoo, Gmail demands a "Verified Mark Certificate" (a so-called "VMC") as a requirement to display the logo in the consumer's inbox. Gmail will likely be a driver for establishing BIMI as a standard that many other providers may follow in the future.
The technology was previously tested for more than a year, with a closed group of customers making up the pilot program. Mapp was an early adopter and able to help our customer Josef Witt GmbH to become the first German company to implement BIMI successfully with Gmail using VMC certificates. Gmail is the second largest provider supporting BIMI. Yahoo has already offered this service for over a year. Gmail's launch is considered a huge step towards adopting BIMI as a general standard in the industry.
Requirements
There are several requirements you need to meet to display your logo:
Senders must authenticate their emails and maintain an enforced DMARC policy.
The logo also requires similar measures, and a VMC ("verified mark certificate") of authenticity is required. There are choices of certificate providers for the image and companies, such as DigiCert and Entrust. Mapp is offering a package for that as well!
The sender's reputation must be rated highly in Gmail's estimation, as they will not apply the logo to mail considered spam or fraud.
MAPP'S FIRST BIMI CASE
Mapp recently received our first client's "Verified Mark Certificate" (VMC) for "Josef Witt GmbH". The Witt-Gruppe is combining ten fashion brands for best agers under its roof. The group has successfully shifted its focus from catalogue sales to eCommerce activities, with 18 online stores and more than 15 million customers a year.
The process is still very new to digital marketers in the email hemisphere, and several steps are needed to receive the certificate. The process may seem familiar to you, as it bears a resemblance to requesting an SSL certificate:
The technical verification for your domains is done via DNS entries. These must be added by the client's responsible IT team. The logo check will be approved by a local notary.
Clients must be aware that the overall process requires some time and regular feedback on the required steps. Please contact your CSM for further information and an offer for your VMC certificate!
Status quo: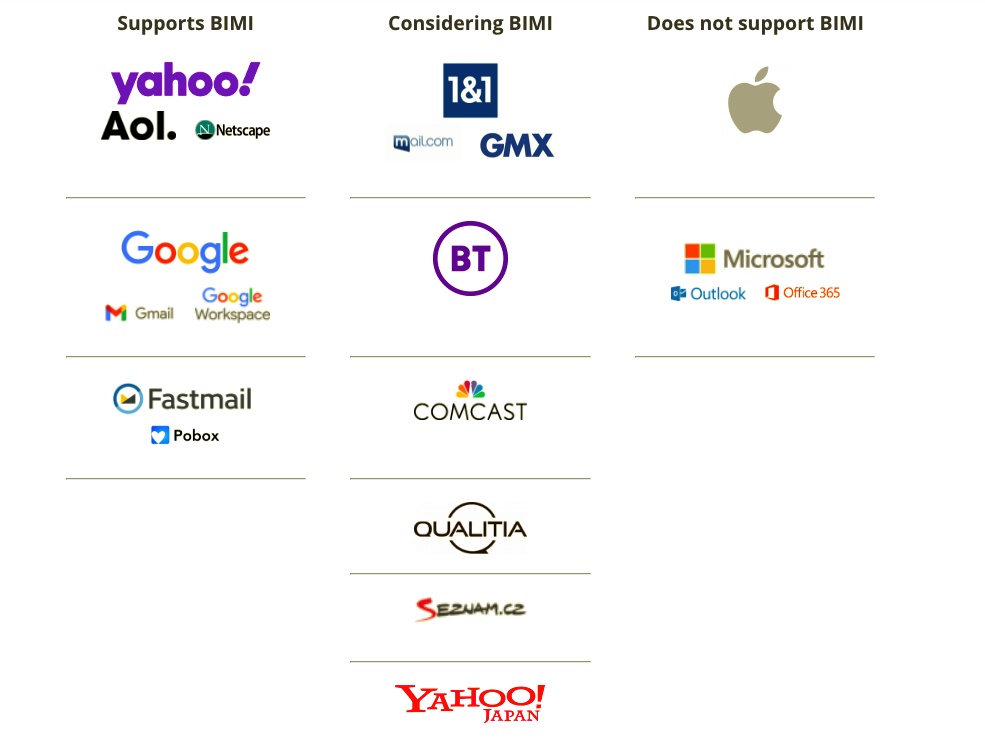 How Mapp can help you
With BIMI, you can ensure that your emails stand out in the recipient's inbox and reassure recipients that you have genuinely sent the message rather than somebody pretending to be you. Overall, you benefit from better brand exposure and more customer engagement.
Please reach out to your Mapp Account Manager with questions or discuss your individual needs to leverage this emerging technology. Preliminary studies show that it's beneficial for improving recipient confidence in the mail sent and open rate.
FEEL FREE TO GET IN TOUCH FOR THE LATEST UPDATES REGARDING EMAIL DELIVERABILITY. WE ARE HAPPY TO ASSIST YOU WITH IMPLEMENTING BIMI AND DMARC CORRECTLY – IN A PROFITABLE WAY!